Podcast: Play in new window | Download
Subscribe: RSS

Today's expert, Craig Clawson, talks with us about the plusses and minuses of IT outsourcing under a range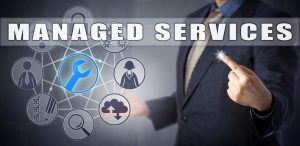 of situations:
owning your own IT function is expensive:

Manager $100K/yr
Engineers $60-80K/yr
Desktop technicians $40-60K/yr
benefits
Support tools, monitoring tools,

A managed service provider (MSP) can help keep performance up and costs down
Craig talks about the differences between and mutual support provided by the C-suite IT CIO, VP, or Director and the operations manager. There are 2 different approaches:
Hand off the entire operations to an MSP.
The other is maintaining your technology leadership in-house
Craig prefers option two with an MSP providing the actual operational service and walks through an example.
He walks through what could happen if an IT consulting firm is used who has a partner relationship with a major technical company. The key is having someone in-house who can direct IT activities based of business requirements and business decisions not vendor benefits.
Another option is hiring a fractional CIO to keep IT from becoming a regrettable, low-priority, ad hoc, after-the-fact activity. That factional CIO can shepherd the technology part of the business plan as well as manage the MSP.
The above is true even if you have as few as 10 employees. The goal is to keep IT "ahead of the curve" in terms of your business not missing a heartbeat. Avoid putting this responsibility on the shoulders of the CIO.
Craig discusses how to select an MSP:
A fractional CIO is very helpful, to start with,
Are you a 24/7 operation?

Is the MSP?
Help desk?
Service monitoring?

What are your show-stoppers?
Talk to MPS's extensive client list, not just the ones they want you to talk with.
Specific concerns such as asynchronous courses housed across several services need to be addressed in a detailed, clear manner, e.g., if Amazon servers are a Sev1 for your company then make sure the MSP views it as a Sev1 and respond accordingly.
Be prepared to provide specific, process details so the MSP can perform, e.g., if social media is a key component in your product/process flow them have that mapped out clearly.
Pitfalls with  fractional CFOs and/or MSP:
No Service Level Agreement (SLA) and/or KPIs. Both recommended
Problem-solving without maintenance or documentation
Poor password strategy
No or inadequate security remediation plans
No Non-Disclosure Agreement (NDA), Non-competes, or data ownership contracts.
Lack of redundancy
MSP's backup/redundancy plan poor or missing
Craig concludes with the benefits of having of a fractional CIO and an MSP so you can focus on the product you want to create.
Craig can be reached at:
craig.b.clawson@gmail.com
(c) 614-859-6328
For more information on the "8 Steps From Chaos To Clarity and Calm: CEO Advanced Training" go to
https://www.ctrchg.com/ceo-advanced-training/
Your feedback is important. Choose from the following options:
place a review in 

iTunes

,

click on "leave a comment" below,

send any comments along with your name and the show number to 

support@ctrchg.com

 or

call us at 614-388-8917 and leave a message including your name, the podcast number and podcast title.
Listen to future episodes for our reply.